The recent iOS updates have only added to the reasons iPhone users should fake their GPS location. One might consider jailbreaking to spoof location on an iPhone. Well, that's not recommended as we have several solutions for people wanting to change their location to use Pokemon Go, dating apps, and messaging apps with virtual location. So how can you spoof location without jailbreaking? In this post, you will learn the full steps about how to fake location on iPhone, especially through the world-class Tenorshare iAnyGo application. Let's get started, shall we?
Why should you fake your GPS location?
Indeed, GPS-integrated smartphones have improved how we interact with technology. It has made our favorite brands, people, and information more accessible, especially with the highly advanced navigational accuracy and efficiency. So, why should one consider faking their location on iPhone? Consumers that wish to access geo-restricted content that isn't available in their area or region should fake their GPS location using a VPN.
You might want to use a dating app that shows your location is from elsewhere. Or play location-based games like Pokemon without geo-restrictions. Well, these are certainly the simplest of reasons. We believe that faking GPS location using a location spoofer is quite a helpful tactic. However, the problem is that the Apple iPhone doesn't allow one to fake their GPS location. So, you will hardly find a GPS spoofing app on the Apple App Store.
How to fake GPS location on iPhone via Tenorshare iAnyGo?
So, how can you fake GPS location on your iPhone? Well, one would argue that changing the iPhone location without jailbreak is impossible. Let us introduce you to an application that has been designed just for iPhone users willing to spoof their GPS location. We are talking about Tenorshare iAnyGo — an application that gives you absolute control over your GPS location.
Here's what Tenorshare iAnyGo features:
Change iPhone location without jailbreak
No. Contrary to popular beliefs, you don't need to jailbreak your iPhone to start spoofing GPS location. Tenorshare iAnyGo is a highly reputed application that ensures iPhone users keep their phone's authenticity intact and still fake their GPS location successfully!
Play geo-blocked games anytime
We all love gaming, don't we? But what about the games that are geo-blocked (like Pokemon Go)? Tenorshare iAnyGo has your back. You can play such games without moving and even avoiding the dreaded soft ban! Just install the application and start switching between locations where the game is available — all this with only one click!
Spoof location on social media
There are times when we want to consume content that is not available in our region or area. With Tenorshare iAnyGo, you can easily spoof location and consume any content on social media. The application helps users NOT to give away their location and keep their privacy intact. So, you don't have to worry about your location when using apps like Bumble, Tinder, WhatsApp, or Instagram.
Simulate GPS movement based on a customized route
Maybe you are looking to plan a complex route in order to spoof your GPS location. Tenorshare iAnyGo will help you do that through the Multi-Spot Movement mode. You may select more than one location on the map and even regulate the speed of the route and the number of round trips!
Freely change direction with GPS joystick
Tenorshare allows users to integrate the Joystick feature to control their GPS movement more easily. The integrated feature helps you to change the GPS movement direction using a joystick at any time.
Steps to fake GPS location on iPhone via Tenorshare iAnyGo
Follow these steps to use Tenorshare iAnyGo and spoof location on your iPhone. Let's get started!
Step 1: Launch the Tenorshare iAnyGo application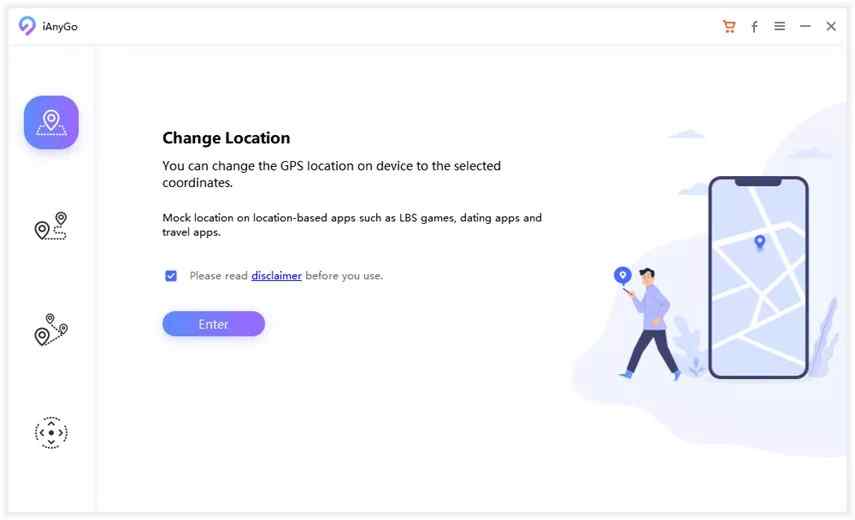 Once you launch the application on your computer, you will see the default mode is set to 'Change Location.'
Step 2: Connect iPhone to Computer
Now simply connect your iPhone to the computer via USB and unlock your iPhone. Once unlocked, click 'Enter.' In case your iPhone asks you to trust the computer, tap on 'Trust.' Since the iAnyGo app can detect up to 15 devices at once, you shouldn't worry about the program not showing your successfully connected Apple device. Select the device and click on 'Next.'
Step 3: Select a location on the Map application
Here's the fun part of the process. Now you can enter the GPS coordinate or the address that you want to use on your iPhone. Once entered, click on 'Start to Modify.'
That's pretty much it. This is how the Tenorshare iAnyGo application helps iPhone users fake their location on the Internet. However, you'd want to make sure you don't change your GPS location too frequently.
The cooldown timer helps you with that. If you don't want to use this feature, just turn it off in the settings.
Final remarks!
So, what are you waiting for? Faking location on an iPhone is no longer a big deal, especially with the Tenorshare iAnyGo application that does the job in just one click! We highly recommend you check out the application and start using it right away. With Tenorshare iAnyGo, iPhone users can never limited from geographical restriction.
Also, have a look at our Technology category for more related articles.