Join PS4 Party Chat on Pc – Are you the one who likes to play the games all day on your PS? Your friends are joining the party chat on PC and you are not able to join the same. Do you want to have fun with your friends through party chat on PC even when you are away from your PlayStation, say on another floor, but still want to join the party chat. 
You may be having some questions in your mind like Do I need to download a program or application or something for having Party Chat feature on my PC? Can I have a party chat on older versions of your Windows? What are the steps to join a PS4 Party Chat ? What are the requirements of a PC for joining the party chat?
Here in this article you will get your all the doubts cleared as you dive in.First of all let's see What PS4 Party Chat is all about?
What Ps4 Party Chat Is All About?
PS4 party chat is a remote feature that allows you to privately voice chat with your friends without using the in-game chat system. While playing, you and your friends can play the same game, share your screen and enjoy together even when you are away from each other.
To use the PS4 party chat feature you have to synchronize your PC to your PS4 console. As the PS4 Remote Play is established, you can start communicating with your friends. 
PS Remote Play Application
For playing the game with your friends, you need to download the PS4 Remote Play Application. The application is called PS4 Second Screen App.
The application allows you to connect to your PS4 via your PC or Mobile Devices. It includes IOS, macOS, and your Android Devices. You can even use the app to connect to your friend's console.
PC Requirements for Remote Play App
Broadband Connection with a minimum speed of 5 Mbps, recommended – wired connection. 

 An adult account for PlayStation™ Network.

 A registered payment method.
PC System Requirements for PS
Minimum specs
Windows 7 (SP 1), 8.1 or 10 

 Core i3 2.0 GHz 

 300 MB of available storage 

 2 GB of RAM 

 Sound card; USB port
Recommended Specs
Windows 7 (SP 1), 8.1 or 10 

 3.5 GHz Intel Core i3 or 3.8 GHz AMD A10 or faster 

 300 MB or more of available storage 

 2 GB or more of RAM 

 Sound card; USB port
Steps to Download PS4 Remote Play App on PC
Sign up for PlayStation Now

Select the desired option

Launch and your app will start installing.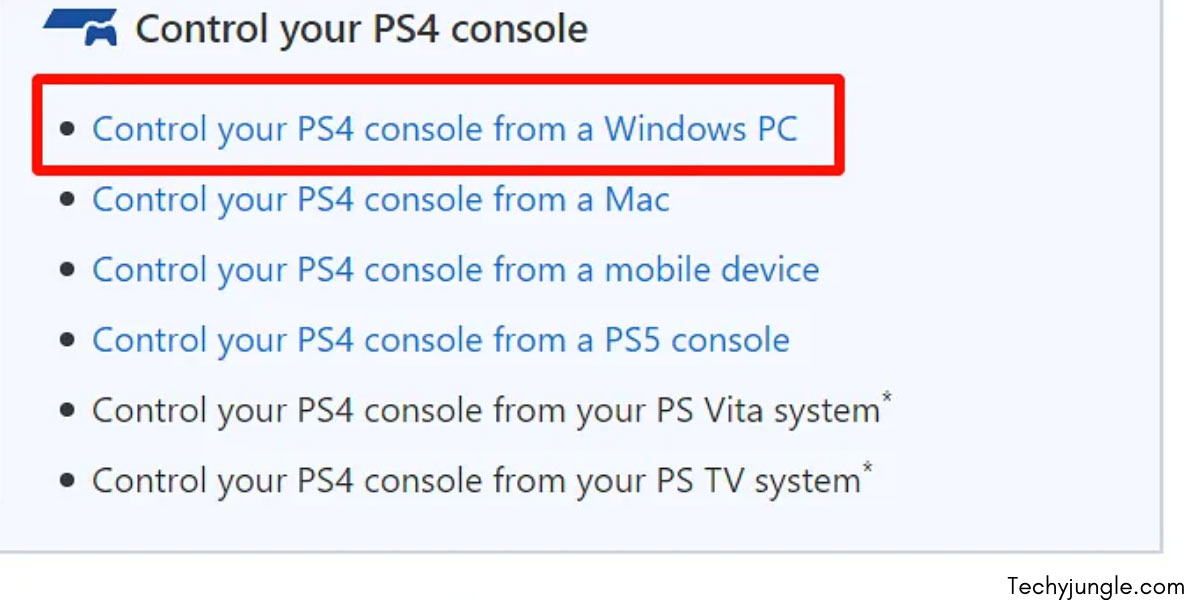 Start the app and create an account or sign in to your account if you already have one.
Steps to Join PS4 Party Chat on PC
Make sure that your

PS4 and PC are connected to the same network connection

. 

The next step is to ensure that your console is in

standby or sleep mode to join party chat

from your PC.

You can choose between PlayStation 4 and PlayStation 5. But this isn't necessary. You just

click on the app and continue.

Now, your PS4 name will be shown on the screen.

Click on the name

. Your console starts the search and syncing process remotely.

Enter your

PS4 Passkey

(required).

Once all the things are done, you will be able to play the game on your PS4 console.

For

chatting with your friends

,

click the microphone icon

button at the bottom of your screen.

Click and

hold the PlayStation button

on your controller.

 Follow the prompts >

" Select Party">" Start Party">Select your friends from the list

.

The last step is to create a

party chat group

and add friends.
Also Read: PS4 Controller not Charging: Problem Fixed | Steps To Solve it?
Conclusion
That's it, you are good to go. You can now join the party chat with your friends and have fun. There are many emulators like PS vita emulator in which you can use android apps in your system.
If you have further queries you may drop them in the comment section or contact us directly via mail.