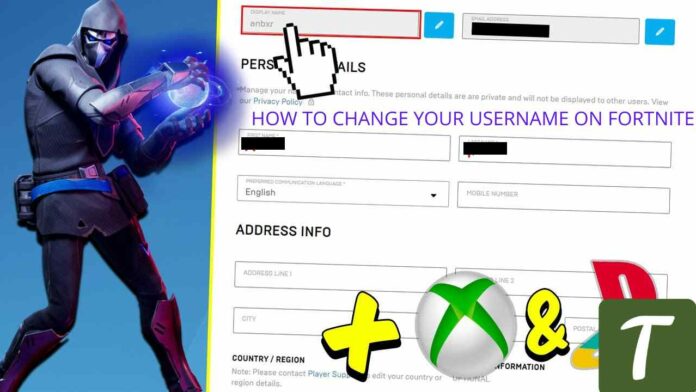 Your gaming identity is inextricably linked to your username. No one will want to become a world champion if their username is "670noBrand534BlazeHere," but it's okay to go with whatever comes to mind when making an account.
If you've gotten a second wind and thought of the perfect moniker, updating your username in Fortnite is the easiest procedure you'll encounter in any online game. Changing your name was a paid extra in previous famous games, but players in Epic Games' battle royale may express their individuality at any time.
In-game, when you log into Fortnite, the username that shows will be your Epic Games display name. If a game in the Epic Games Store makes use of a display name, then changing that name will also change your username in that game.
If you want to alter your Fortnite username, you'll find all the information you need here.
Fortnite's Name Restrictions
Users of Fortnite are free to choose a new username at any time. You may change your account name to whatever you like inside the organization, and it won't cost you any more money or V-Bucks. One restriction is that you may only choose a new username once in a while. You're currently permitted to create a new name every two weeks.
Given this restriction, it's best to go with names you're already fond of. If you make a mistake or choose a username you don't like, you may play in offline mode for a few weeks until you're able to select a new one.
Here's a gift from Techyjungle, Free Fortnite Skins that you can collect now.
How Are Usernames Changed in Fortnite and Other Epic Games?
The Fortnite website and the Epic Games launcher allow you to modify your player name. Because it's important to cover all of our bases, we'll discuss them. If you want to use the website, go to the top right of your screen and select the Sign In icon. Select "No" from the pop-up window's prompt, then click "Sign In" from the menu's footer.
Please enter your login information to access your Fortnite account. After successfully logging in, you'll be returned to the homepage and see your username in the upper right corner. Choose your name and "Account" from the drop-down menu to access your account. Your Display Name will be under the "General" tab, and you'll be able to alter it by clicking the pencil icon next to it.
Alternatively, you may log into the Epic Games launcher and click on your name in the bottom left corner. Click on Manage Account on the menu that should appear, and the Fortnite homepage should pop up by itself, bringing you to the final step of the first procedure. Remember that you can only alter your username every two weeks; there will always be another opportunity to think of a memorable moniker.
On Ps4 and Ps5, How Can You Alter Your Fortnite Name?
PC gamers will have more name change opportunities, while PS4, PS5, and Xbox One players will only get one free name change. If you want to make the most of your one free name change before having to pay to make any further modifications, you should think of the coolest name you can think of.
Although you may modify your PlayStation Network (PSN) handle in the system menu, doing so from a computer's browser is easier and doesn't need you to power your console.
Visit Sony's PlayStation Network homepage and enter your credentials.

Select your name and then the My PlayStation button.

Pick Your Profile

Use the pencil icon next to your profile image to change your profile information.

Click the pencil icon next to your Online ID and make the necessary changes.

Go ahead and click "Accept" to change your name.
In addition to updating your Fortnite username, this step will also update your PSN ID. Changing your name in one PS4 or PS5 game will effectively make the change across all of your PS4 and PS5 games. To change your Fortnite username again, you'll need to pay a charge of $5 for PS Plus members or $10 for everyone else.
How Can I Change My Fortnite Name on the Xbox One and Xbox Series X/s?
Xbox One customers who want to play Fortnite under a different identity will need to alter their Gamertags, much like PS4 owners. Changing your name on Xbox is as easy as signing onto the website, but updating your Microsoft account may take a little more work.
Changing your Fortnite name on Xbox One X and S requires the following steps:
To access the Xbox dashboard, go there.

Click "Profile" in the top left corner of the screen.

Select My Profile from the option that opens.

Here edit your profile; click here.

To modify your gaming handle, click on your existing username.

Before moving on, you must ensure that your new username is available.
If you'd want to alter your Xbox One Fortnite handle, you must:
Your controller's Xbox button should be pressed and held.

Select a Gamertag and a system in the Profile and Settings section.

Access the profile editing menu by clicking My Account > Profile > Edit.

You may change your Gamertag by tapping it and selecting "Edit."

It would help if you first choose a new username and verify its availability.
How do you change your Fortnite name on your phone?
Mobile players of Fortnite have the same flexibility as Switch owners in rebranding their accounts through Epic's website. Users are not obligated to create a single Gamertag that may be used across all their Google or Apple-supported games.
You'll need access to your mobile device's computer or web browser to modify your Fortnite username.
View the Fortnite webpage here.

To log in, choose Sign In, and your login option is selected.

Once you've logged into the site, you should be returned to the homepage.

Once you log in, your username will appear instead of the Sign In button.

To access your Account, go to your username and choose Account.

Click the edit button next to your name in the "General" section to make any necessary changes.
On the Nintendo Switch, How Can You Alter Your Fortnite Name?
Players on the Nintendo Switch use Epic's network to choose their in-game names, unlike those of the PlayStation 4 and Xbox One. In other words, if you want to change your Fortnite name but keep the same Nintendo ID, you may do so.
This implies that the Fortnite website will soon allow you to alter your username. You may use your Nintendo account if you've never signed into the site.
Get on Fortnite.com 

A Sign In button should appear in the upper right of your screen; click this.

Click the login button of your choice and input your credentials.

Once you've signed in, the homepage will load again.

Your current in-game name will appear instead of the Sign In button.

The Account section may be accessed by clicking your login and selecting the Account option.

To modify your name, go to the General menu and click the pencil symbol.