TikTok has launched numerous new features in recent months in order to increase visitors to the site and stay its users interested. To mention a few, your account watch history, and 10-minute-long videos.
The report option is the most recent addition to the list, and so many people are having trouble figuring out how to utilize it. So, in this post, we'll know about TikTok's new repost feature. First, we need to know what is Repost feature.
What is the repost feature on TikTok?
Repost is a new TikTok function that allows you to re-share other creators' videos with your followers. This is comparable to the repost and retweet functions on Instagram and Twitter. There are, nevertheless, significant distinctions between them.
Your TikTok feed does not show your reposted videos. Furthermore, only users who follow you and who follow you back will be able to see your republished videos. The report feature, as the name implies, allows people to republish their favorite videos. It's a thing for you to give your favorite videos to your mutual followers. Instagram and Twitter both have comparable features, however, TikTok's repost tool is unique in certain aspects.
To begin with, the video you republish does not show on your profile; instead, they appear just in the home feeds of your mutual friends. Second, only videos from your "For You" feed can be reposted. To put it another way, you won't be able to repost a video you found on someone's account or through Discover.
Solution for Tiktok Not Showing the Repost Button
TikTok's Repost Button Isn't Working? C'mon Let's know about this.
Just at end of 2021 as well as the starting of 2022, TikTok began to roll out the repost function. You won't even be able to use the function if TikTok hasn't yet made it available in your area. If that's the situation, your only choice is to wait till TikTok provides the feature universally available.
By upgrading your TikTok application to the most recent version, you can improve your chances of receiving the republish button.
Reposting a TikTok Video
It's worth mentioning that you won't be able to repost every video you see on TikTok. Only videos that show in your 'For You' area can be reposted.
On videos that you find elsewhere on TikTok, the republish button will not appear.
Step 1: Open TikTok and go to your 'For You' section.
Step 2: If you wish to repost, tap the share symbol which is shown in the bottom-right corner of the video.
Step 3: Click on the Repost button. A yellow icon with two white signs pointing up or down will appear.
Step 4: Compose a message that would be displayed alongside the reposted video.
You've effectively reposted the TikTok video, congrats. In the for you feeds of everybody who is connected with you, your reposted video will now appear here.
How To Undo a TikTok Repost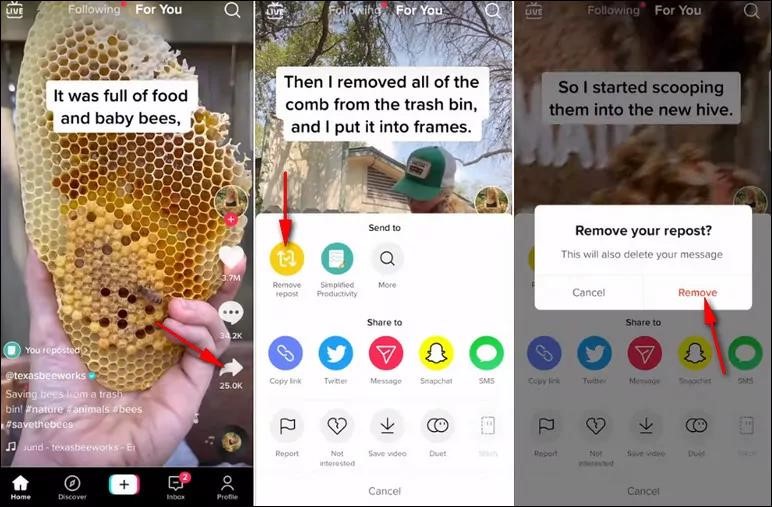 Don't worry if you alter your opinion about your republish or if you mistakenly hit the Repost button. Because the software allows you to reverse the repost. Following these procedures will allow you to undo a TikTok repost:
To repost, tap the Share icon.
Then, to undo your re-sharing, click the Remove Repost button.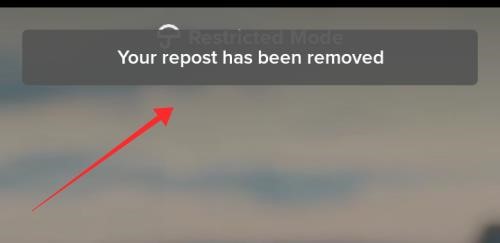 Isn't the procedure completely painless? You can disable the Repost button in the settings to avoid mistakenly tapping it. Then, in the next part: –
How to turn off reposting on TikTok?
You have the option to disable the latest repost feature if you don't like it. Go through these steps:
Tap Profile on the TikTok app.
Click on the three stacked lines icon which is showing on the upper right side.
Select Privacy from the drop-down option under Settings and privacy.
Under the Safety section, scroll down to see Repost.
Turn off Video reposts at the end.
The above information helped you a lot in TikTok. This will help you to solve most of your queries and gives you a better entertainment experience.
Wrapping Up
So, this was everything about reposting on TikTok, do give your valuable feedback in the comment section below.