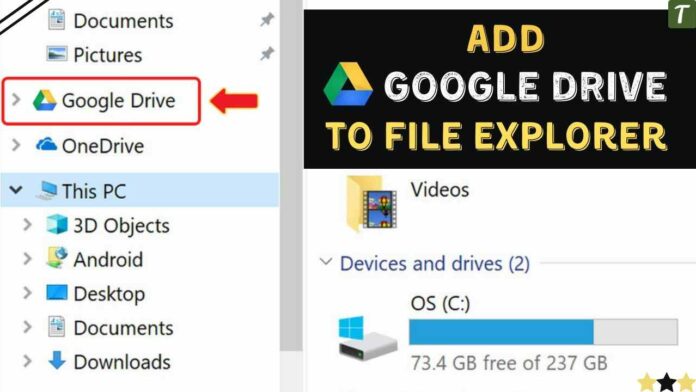 Google Drive is very convenient for syncing files and accessing them on other devices. If you do not store your password in your browser, you will need to log in each time you access your password.
It's exhausting right, there is a way to tackle this around. The Backup and Sync app by Google for Windows, allows Google Drive users to access their files offline from File Explorer. The cherry on the cake is, that you can easily upload or download your files on google drive using your PC's file explorer.
If you have a Google Drive folder in File Explorer that simply means you can modify, or delete files without opening any web browser. Changes made in this folder will be automatically reflected in Google Drive. In a sense, you can manage both local and cloud storage directly from your PC's File Explorer.
Working daily on Windows means using File Explorer several times a day. The primary benefit of adding Google Drive to Windows Explorer is that it will help you organize your files better and easy to use without any hustle. Another advantage of this is that it is much more efficient than using a web browser for the same.
Use Google Drive folders and files faster and more productively. File Explorer provides users with a central location on their computer to view their data. As an additional feature, users can also view management features with a vertical ribbon.
You can also copy more than one file in one window/screen. This is another big improvement. In this article, we'll know how to add google drive to file explorer. Let's get started.
For adding the google drive folder to the side menu of File Explorer, we need to download and set up the Backup and Sync app on our device. That's how it's done.
Go to the Google Drive download page and click the Download button under Backup and Sync. When complete, click on Agree and Download.
Then run the EXE file and follow the on-screen instructions to install Backup and Sync on our device. When the installation is complete, we'll see the Backup and Sync app and shortcuts to Google Docs, Sheets, and Slides on our desktop.
Then open the backup and sync and sign in with your Google account.
Now, the next step is to select a local folder on your PC that you want to continuously back up to Google Drive. Also, if you're going to back up your photos and videos directly to Google Photos, select the Upload photos and videos to Google Photos option. Then click Next.
After that, you can select the Google Drive folder to access directly in File Explorer. Otherwise, you can sync everything. Make the necessary selections and click on the Start button.
It may take some time to sync all google drive files to file explorer depending on the data.
Once the process is complete you will be able to find the google drive folder in the file explorer navigation panel.
Manage google drive from file explorer:-
The Google Drive folder contains all the files and folders that you synced to your computer during setup. A green checkmark on an item represents a file that was successfully synced to Google Drive.
When you copy or move it to your Google Drive folder, those changes are automatically synced to your Google Drive account. When you delete a file from Google Drive, a red cross appears on the file to indicate that it doesn't exist in the cloud.
In addition, the Backup and Sync app will also display a notification, giving you the option to restore or delete deleted files.
You can add up to three accounts to the Backup and Sync app and manage them through Windows File Explorer.
You can also see the below video to understand it easily.
Video Guide:
What is Webpage not Available problem? How to Fix it?
Wrapping Up
So this is how you can add google drive to your file explorer. By following the above-given steps you are good to use Google Drive directly from your PC's file explorer.