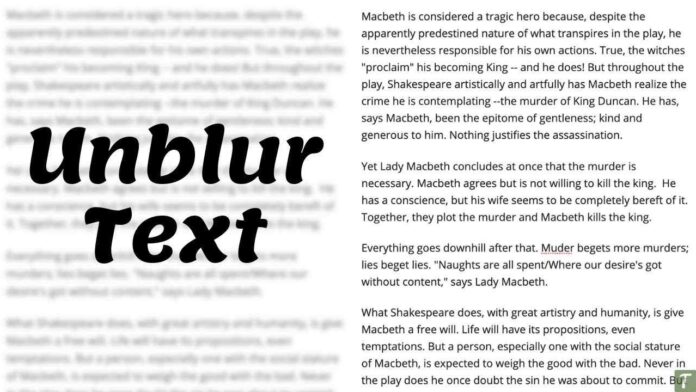 If you are also encountering the issue of blurred text on a website or how to unblur text on a particular site, then you are at the best platform, by following some layman's steps, you would surely get rid of this issue forever. So, let us dive in!
The first obvious and legitimate question that may strike your mind is -Why do websites do so? There are some academic-related sites, or maybe belong to some other genres as well; intentionally do so which can only be seen after purchasing their respective subscriptions, or simply just to hide their premium content.
How to Get Rid of the Blurred Text on Websites?
The best possible and most common way to tackle this issue is-
Right-click tick on the Text which is blurred, and if you want to unblur the text.
In the drop-down menu, you will see the "inspect" option.
The inspect option allows you to view the source code of a text, page, paragraph or document, etc. You can manipulate it by you or remove the hidden code due to which the document is locked, and many much, if you are a coding pro.
How to Use Inspect Tool to Unblur Text on Website?
For accessing the inspect option – right-click>> inspect on the page you want to be unblurred.  You would need to open the file or text that you want to unblur before that as we have discussed in the previous para. Move the mouse and right-click over the document where it is blurred for accessing the inspect option.
On the right-hand side, you will notice the source code of that hidden page. Look for 

…

and repeat this line two-three times continuously.
You Would find script starting code that starts from 

just below this option. Now you are having the code which is the vital cause due to which your text is blurred and not visible to you.

You will have to replace this code or script by putting 'none' in place of sample preview blur like 

 and then press enter and the blurred portion of the file or text would be removed.

If you found this option too much elusive or it just flew off from your head, maybe you don't know about coding and its basics, so don't worry, we are having an alternate to this also-

Also Read: Top 7 Gadgets for Your Health

Alternative Way to Fix blurred text Problem-

Is there another way to unblur a text? The answer is yes, you can unblur the text on a website without inspecting the option, simply you have to purchase the membership to have full access to hidden or blurred content or, whatever is offered for that service.

The legality of the inspection option

Inspecting a website and accessing the data of a website through the inspection option is entirely legal and legitimate. But in sensitive cases, where you might be having privacy issues or at risk of encountering copyright issues, it is strongly recommended that you must take permission from the website owner, to be on the safer side. In the case of academic information, you will not need to worry that much.

Video Guide:

Also Read: The Benefits of Cybersecurity Audits for Your Business

Wrapping Up

You can easily get rid of the blurred text on websites by using the inspection tool or by purchasing the membership of the website you are trying to look into. If you find this article helpful then do smash the like button at the bottom of the post.

Below, are some questions related to this topic that might interest you.

Frequently Asked Questions

Could you reverse back to the blurred text on a website?

Yes, you can do so, the reverse could be performed directly by refreshing the website or page. Also, you may add the previous code again and press enter; 

.

How to Fix Blurred Text on Website problem Without Using Inspection Tool?

Simply, you need to buy the membership plan of that website or whatever that website wants you to do for example signing up on that site, filling out a form, etc.

How to inspect Blurred Text on a Website?

Firstly you need to select the appropriate text you want to unblur, after that right-click and tap on inspect button. After that, you need to adjust the 'div' tag and now you can see the text easily.