How to Copy and Paste on Chromebook – A Chromebook is a kind of tablet or laptop. The operating system of the Chromebook is Linus-based Chrome OS. The primary work of Chromebook is to do several tasks using the browser Google Chrome.
The cost of the Chromebook is very low comparing other laptops. Chromebook does not run-on windows. If you're having trouble working without Windows software like Microsoft Office or Adobe Photoshop, keep in mind that there are free alternatives, such as Google Docs, Office Online, and Pixar, that Chromebook flexible.
If you newly purchase a Chromebook then you need to know how it works. You will know how to copy and paste on Chromebook.
Steps to Copy and Paste on a Chromebook
Copying in Chromebook is all like copying in windows, there is nothing so different. First press the Ctrl + C keys to copy the item. You are also able to copy an item by double click on it and selecting "Copy." Ctrl + C is a shortcut key for copying.
You can also use a Chromebook to paste text, files, and folders. Copying and pasting items on a Chromebook is the same as it is on other operating systems. For this you need to do is to press the Ctrl and V keys at the same time. You may also pick "Paste" from the context menu by right-clicking and selecting it from the context menu. Ctrl + V is a shortcut for pasting. paste in the Chrome browser.
Paste the text into a new document without formatting it We don't always want to carry the content with its inherent layout when studying and writing from several sources. In that situation, you can use this handy Chromebook shortcut to paste text without formatting. This is an easy shortcut that I'm sure you'll like. Ctrl + Shift + V (Ctrl + Shift + V) (Ctrl + Shift + V) (Ctrl + Shift)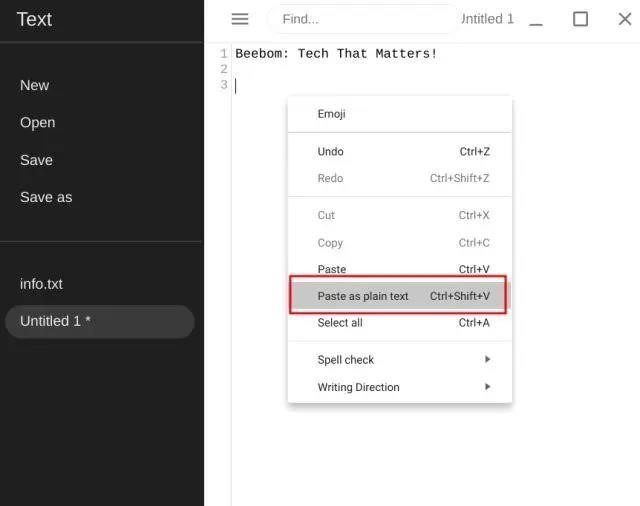 You can remove images, text, files, and folders from your computer by pressing the Ctrl and X keys at the same time, you can also be able to cut or move files and text from one folder to another. You may also select "Cut" from the context menu by double-clicking on any item. Ctrl + X is a shortcut for cutting.
You can also be able to copy pictures on Chromebook. If you want to know how you can copy and paste pictures on Chromebook then you need to simply use that copy and paste key that we use to copy and paste the files and text. You are also able to copy the image by double click on it and then selecting the option copy image. After copying the image, you can easily go through the page where you want to paste the picture than simply right-click and then select the option named paste.
On Chromebook, you can directly paste screenshots and images into a media file. For example, if you capture a screenshot, then on Chromebook or any other media field you will be able to directly paste that screenshot on an image editor. The Chrome operating system automatically copies that image when you take the screenshot. And you can also paste that screenshot anywhere you want. The shortcut key for pasting screenshots is CTRL+V.
In Linux Terminal you can copy as well as paste commands into the Chromebook. If you regularly use Linux Terminal then you should already know these useful shortcuts for copying and pasting commands. Selecting a line of command with the touchpad or mouse is the best way to duplicate it. Simply choose it and it will be copied for you. There's no need to take any shortcuts. For pasting the copied command easily click on the Terminal, and it will be added to the Terminal. That is so simple. You can also utilize keyboard shortcuts. On your Chromebook, simply press the conventional copy or paste shortcut.
Also Read: Choosing The Right Laptop for Your Needs and Budget
Wrapping Up
All of the above shortcuts will help you with copying and pasting on a Chromebook. It will make your work easy and comfortable. After applying the techniques, I mentioned above you can easily copy and paste any screenshot, text, file, photo, or media.