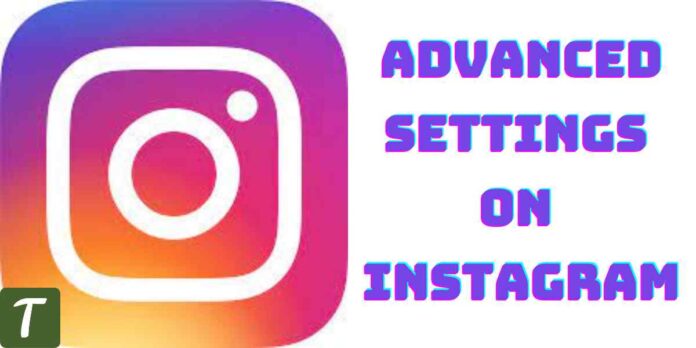 A few settings on Instagram are hard to find, including Advanced Settings. Have you ever wondered if you are one of the people that cannot access the Advanced Settings? It was happening to me before I realized what the issue was.
Whether you can attend or not is not a problem. I will share how to locate Instagram's Advanced settings so that you can use hidden advanced features to customize your posts in this blog post.
Accessing Instagram's Advanced Settings
Instagram does not have a tab called "Advanced Settings" besides the feed post page that appears when posting a photo. What you need to do to get there is outlined here.
The first thing you must do is post on Instagram. Read the points below; 
Choose a post from your profile by tapping the + icon. 

When choosing the photo, you want to share, click the next arrow in the top right corner. Depending on your preference, you can apply a filter to your picture on the next page or skip it and move on.

Upon clicking it, you'll see the following: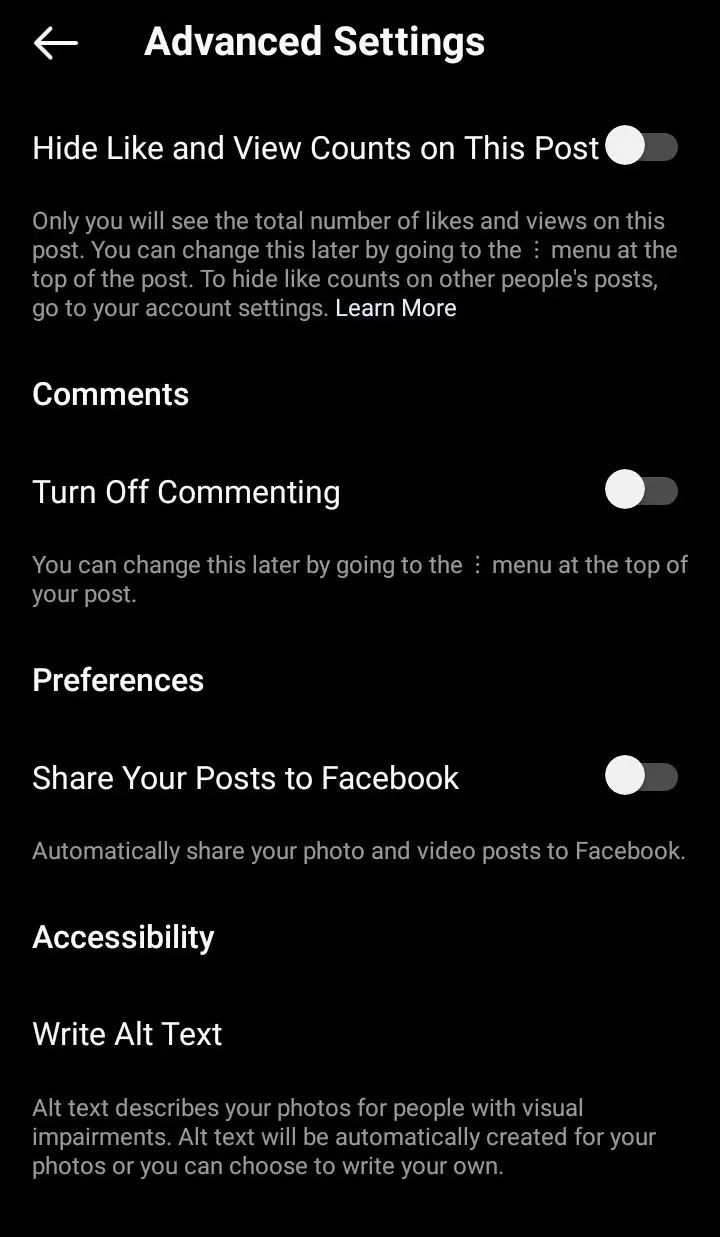 At the bottom, you can see Advanced Settings. The Advanced Settings for your post are displayed when you select it.
Also Read: How to Remove Phone Number from Instagram
What Features Are Included in the Advanced Setting?
The option to hide likes and view counts on this post will keep others from seeing how many people have liked and viewed the post.

You can disable comments on your post by checking this box.

Posts will be auto-shared on Facebook if you have connected your Facebook account to Instagram.

You can also create alt text for visually impaired people as an alternative text.

In addition to paid partnerships, you can also tag business partners. You might only have access to this feature if you are a Business Account owner.

Putting an age limit on viewing a post allows you to restrict people from seeing specific posts based on their age.
Also Read: How to Remove/Change or Hide Category From Instagram
Are There Any Advanced Settings for High-resolution Photos?
There are no options for adjusting the quality of an Instagram photo. A photo you upload to Instagram may be different in resolution from the original picture you posted. According to Instagram, the image is compressed to a lower resolution than the original. Although Instagram ensures that all photos are uploaded at the highest resolution, it does not guarantee its accuracy. 
How to Hide Likes and Views in Advanced Settings
Your posts can be hidden from likes and views. Hiding them is as simple as tapping the toggle button, as shown above. Only your photos and videos will show like counts and views if you select this setting. It means that other users can't see the number of likes a post has or the number of views a video has received.
How to Use Child Filter on Instagram
What Is the Alt Text Option in Instagram's Advanced Settings?
Alt Text is a description of your photo added to your image for visually impaired people. You can add your own to Instagram or automatically create it for your photos.
Video Guide for advanced Instagram settings
Also Read: Sensitive Content Control Instagram | Enable Disable | Guide
Wrapping Up
So this was everything about Instagram's advanced setting, we hope you like the article. Don't forget to give a thumbs up by tapping the below button.
Visit our Instagram category made for Instagram enthusiasts like you for Tips and Tricks on Instagram only.