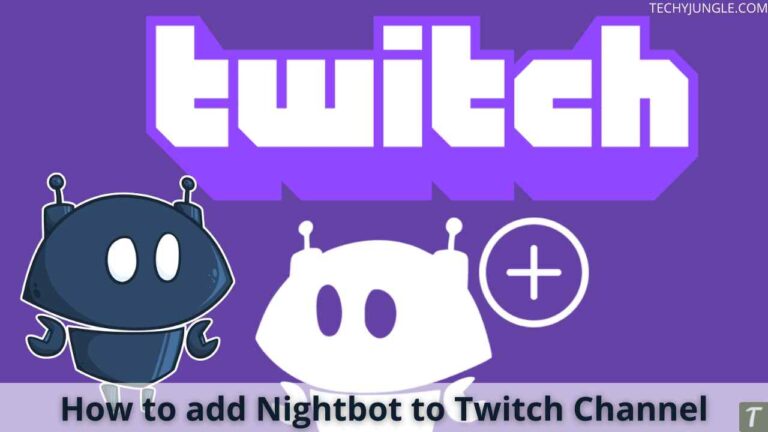 If you are an active twitch user and want to modify your channel with some tools and specifications, then you might have gone through the term- Nightbot. What is Nightbot? How to add Nightbot to your twitch channel? You will find solutions to these questions by the end. Hence, stay tuned.
Nowadays, Twitch Prime and Twitch Turbo are in great talks.
What Is Nightbot? Why do I need it?
If we abide by, what is mentioned on the official site, Nightbot is a bot available on many platforms that automatically modifies your channel's chat settings and helps the streamers to be focused on their content rather than frustrated on issues regarding chats. To be honest, it is one of the best twitch bots.
When your channel starts growing, the number of viewers and followers started growing at a fast pace, at that instant time, it is not that much easy to manage everything, especially all on your own. You may give the moderator status to some trusted ones, but that is also not sufficient to keep full control of chats. Thanks to twitch bots for making these tasks bread and butter by helping users with auto-moderation and other commands with just a click, and night is one of them. So let us start with the basics.
Nightbot has good customization, filters for spam, commands, and support for community development and navigation also. It is based on cloud hosting, which makes it handier as you will not be asked to download it for running on your channel.
Also, have a look at How to Clip on Twitch | Create Twitch Clips
How to Install Nightbot on Twitch Channel
Follow these simple steps to add nightbot to the twitch channel-
On your browser, open the homepage of the nightbot website and sign up using the blue button, available in the center of the page.
Choose your twitch account to sign up, only use your already registered account, you don't have to create a new one.
After following all the above steps, you will be headed toward the authorization page.
You will have to grant permissions tonight but, whichever is necessary according to your requirements, then, click on authorize to proceed further.
Now, the night boat has successfully been added to your respective channel.
Quick Setup Guide to Nightbot in Twitch
The first and the most basic process is now completed, that is the authorization process. To have full use of it, you have to grant moderator permissions, and you will be required to set up some specific customizations according to your needs. To make nightbot, a chat moderator, you just have to open a stream, and in your chat section, do type- /mod nightbot, following! night bot rejoin.
Steps to Setup Nightbot-
Open the night bot official website, in your respective web browser, and log in using your twitch account credentials.
Click on the dashboard to open it. Alternative- type down "nightbot. tv/dashboard" in the browser's URL bar, you have to perform this alternative only if you have previously logged in.
You may now customize, all modifications that night but offers to control your chats.
How to Improve Your Channel Through Nightbot
After you add nightbot on twitch, You may feel quite amazed to know that tools and bots like night also help to grow and enhance your twitch channel, as it is the dream of many twitch users to come to the top level and earn fame and glory.
The two most vital components to achieve this goal are- marketing and advertising. Nightbot will help you in this by sending messages at a fixed interval of times, you can set these messages to show on your social media accounts and let the users remind them to follow your respective account.
You may send greetings to first-time viewers, subscribers, deletion of links, grant permissions, and much more like that.
Related: How to Fix Twitch AdBlock Not Working | Block Ads
Related: Twitch Channel Points | Ultimate Guide For You
Video Guide:
Wrapping Up
To install nightbot on your Twitch channel follow the above steps. Nightbot enhances your Twitch channel with additional tools and bots. We hope that now you are good to install nightbot.
Do smash the like button below and don't forget to share this post with your Twtichmates.